* All our shirts are 1st quality.
NO Irregulars, seconds or closeout items.
* Our call center is located in San Diego CA. Phone Hours: 7:30am to 4pm PST (west coast time)
Here is our mailing address:
ShirtChamp.com
2244 Faraday Avenue #102 Carlsbad, CA 92008
* This is our call center, no showroom.
* There is no customer pickups.
* For faster delivery we ship out of 8 warehouses across the U.S.
California - Texas - Illinois - Washington St.
Florida - Georgia - Pennsylvania - Michigan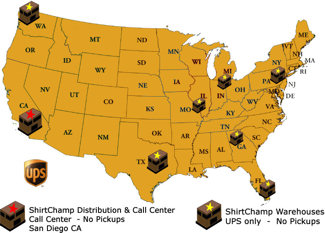 All orders have to be shipped UPS or USPS.
We do not offer customer pickup.
Shipping map and info
To calculate your shipping cost please put your items in your cart and then you will have the option to add your zip code.

Email:[email protected]
Toll Free Number:1-888-269-**** (only Chat and Email support during COVID
Phone Hours: 7:30am - 4:00pm PST
Fax us :@ 858-683-3037
Mailing Address: 2244 Faraday Avenue #102 Carlsbad, CA 92008